Accellera Leadership Award
Congratulations Lynn Garibaldi, Recipient of the 2022 Accellera Leadership Award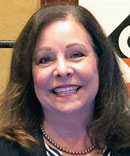 Lynn was the founding executive manager of OVI created to establish Verilog as an open industry standard in 1992. As leadership from various EDA & IP standards setting consortia recognized opportunities to advance the EDA & IP standards program by bringing like organizations together, Lynn offered guidance to smooth these mergers to gain immediate value for the global electronics design and verification industry.
Lynn has played a key role bringing the users of these standards together at Accellera sponsored conferences. She has been instrumental expanding conferences from the International Verilog Conference (IVC) held in the Silicon Valley to mergers with VHDL International Users Forum (VIUF) to form HDL Conference (HDLCon) to what is now known as the Design and Verification Conference (DVCon). In this process, DVCon has expanded from a Silicon Valley-centered event with conferences now being held in Europe, India, China, and most recently, Japan. With Lynn's continued guidance there are more conferences in the planning phase for a growing world community.
Lynn Garibaldi and Lu Dai, DAC 2022
The award was presented at the 2022 Design Automation Conference (DAC) during the Accellera-sponsored luncheon.
About the Accellera Leadership Award
The Accellera Leadership Award is given to an individual who has provided active leadership and contributed significantly in the vision of EDA and IP standards development activities and the governance of Accellera Systems Initiative (and/or its precedent organizations). A nominee should have served on the Board of Directors, held leadership positions, and played a key role in the evolution of Accellera Systems Initiative.
Nominations are accepted from members of Accellera Systems Initiative. Endorsement from at least two additional member companies is required in support of the nomination. Self-nomination is acceptable. Nominations should include the candidate's name, affiliation, and qualifications.
For more information about our awards programs, contact us.
Past Recipients