Congratulations Martin Barnasconi, Recipient of the 2018 Accellera Leadership Award
Prior to merging with Accellera, Martin initiated the standardization of the SystemC AMS extensions in 2006 as part of the Open SystemC Initiative (OSCI). As the chair of Accellera's SystemC AMS Working Group, he led the development and release of the SystemC AMS 1.0 standard in 2010, followed by the SystemC AMS 2.0 standard in 2013. As chair of the P1666.1 committee in the IEEE Standards Association, Martin continued the SystemC AMS standardization efforts resulting in IEEE 1666.1 in 2016.
Martin led DVCon's expansion into Europe with the addition of DVCon Europe in 2014. He served as General Chair of the new conference for the first two years and will serve again this year. Under his guidance, DVCon Europe has become recognized by the industry as a must-attend technical conference focused on system-level and mixed-signal design and verification. He also helped to launch SystemC Evolution Day in Munich in 2016. The event is now co-located with DVCon Europe 2018.
The award was presented at the 2018 Design Automation Conference (DAC) during the Accellera breakfast.
"Martin has been instrumental in advancing the SystemC standardization efforts not only in Europe but across the globe," stated Lu Dai, Accellera Chair. "We are grateful for his dedication, and I am proud to honor Martin with this award."
-- Lu Dai, Accellera Chair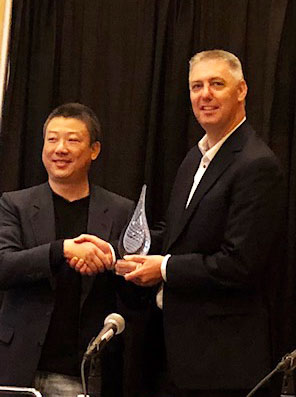 Lu Dai and Martin Barnasconi, DAC 2018